Something Spooky Has Landed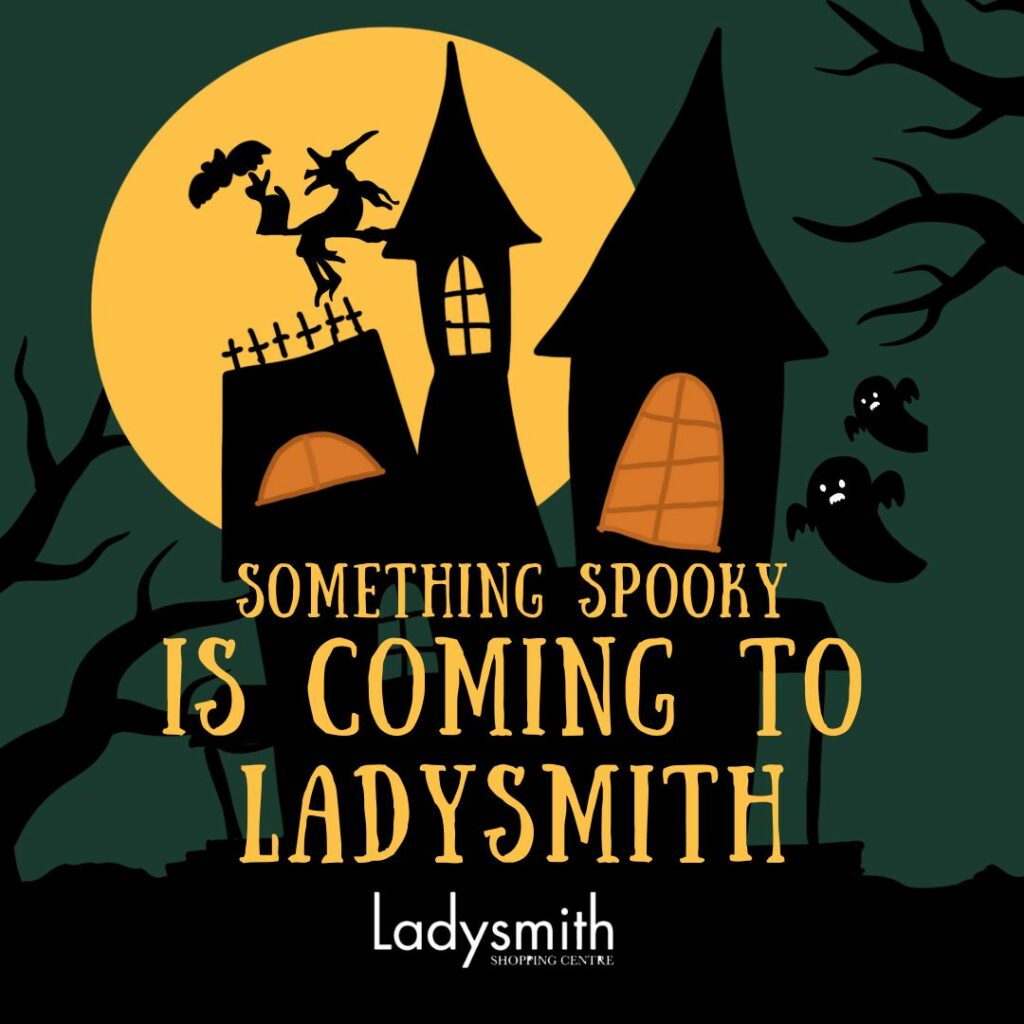 Spookify Your Space With Ladysmith Shopping Centre.
Get ready to embrace the eerie vibes of Halloween as Ladysmith Shopping Centre unveils a treasure trove of hauntingly affordable decorations, accessories and activities! Transform your October into a spooky spectacle with budget-friendly finds that'll send shivers down your spine!
Spooktacular Decorations With Home Bargains.
Home Bargains has curated a spine-chilling selection of Halloween decorations that won't break the bank. From ghoulish garlands to wicked window decorations, they have it all. The best part? Your bank account will thank you! Plus, if you're looking for a haunting activity to do with your Children, why not invite them to unleash their artistic flair and paint some figurines with some ghoulish colours. After a day of creepy crafting, there's no better way to finish than with a bewitching family game of 'Witch Ring Toss' or a thrilling round of Halloween Bingo. All available at Home Bargains.
Time For A Spooky Coffee Break?
All shopped out and need a breather? Dive into the depths of coffee heaven and escape the eerie chills. Costa's devilishly delicious Maple Hazel Iced Latte has arrived and it's waiting for booooooo, we mean yoooooou! The perfect place to rest your weary feet from a day at Ladysmith. Will you top yours with cream? We can't wait to see you there!
Peacocks' Costume Extravaganza!
Ready to transform into the Halloween character of your dreams (or nightmares?)
Peacocks has curated a spellbinding collection of costumes that will take your Halloween experience to the next level. Whether your smallest dreams of dressing as an adorable pumpkin or you're aiming to be the creepiest clown on the road, Peacocks is here to cause spine-chilling thrills at your Halloween party.
Your Spectacular Glam Zone With Boots!
Step into the bewitching realm of Halloween transformation with Boots' sensational makeup collection. Whether you're aiming for enchanting enchantress, a mysterious vampire, or a wicked witch, Boots have got you covered! Dive into their cauldron of makeup magic featuring dramatic false eyelashes that flutter like bat wings, blood-red lipstick that captivates like a vampire's gaze, and intoxicating perfumes that add an air of mystery to your hauntingly glamorous Halloween costume. Head into Boots at Ladysmith before they all go up in smoke!
Unbeatable Value
Ladysmith as always, offers top-notch Halloween-themed items and activities at unbeatable prices. Maximise your budget without compromising on quality or the scare factor. Your home and you, will be the spookiest on the road.
Whatever your Halloween plans, pop along to Ladysmith Shopping Centre. Everything you need is under one roof! We are here to ensure the magic comes alive in the most spooktacular way.
Happy Haunting!